The story of a small creature on a mission to save its forest from a great corruption.
In Spring 2018, I was partnered up with a team of gifted people to design and develop a vertical slice of a game, we named "The Grove". 
Mainly constituting people with artistic skills, we focused on creating an atmospheric storyworld, with a thoroughly developed art style.
As the project manager, I was responsible for the communication, planning and coordination of the project, including setting up meetings, scheduling milestones and ensuring everyone was content.

Besides management, I took part in other tasks, such as: concept art, narrative design and coding

I came up with the "squirdillo" (squirrel + armadillo), the protagonist of the game.
Mark Outridge (Game Director)
Marusa Gorjup (Art Director)
 Morten Blum Christensen (Programmer)
Maja Sayk Sørensen (Concept Artist & Asset Producer)
Laura Blicher (Animator & Concept Artist)
Sejr Thomsen (Narrative Designer & Concept Artist)
Sofie Kjær Schmidt (Project Manager & Concept Artist)

Thank you, team, for a great collaboration!
Using the terrrain to move forward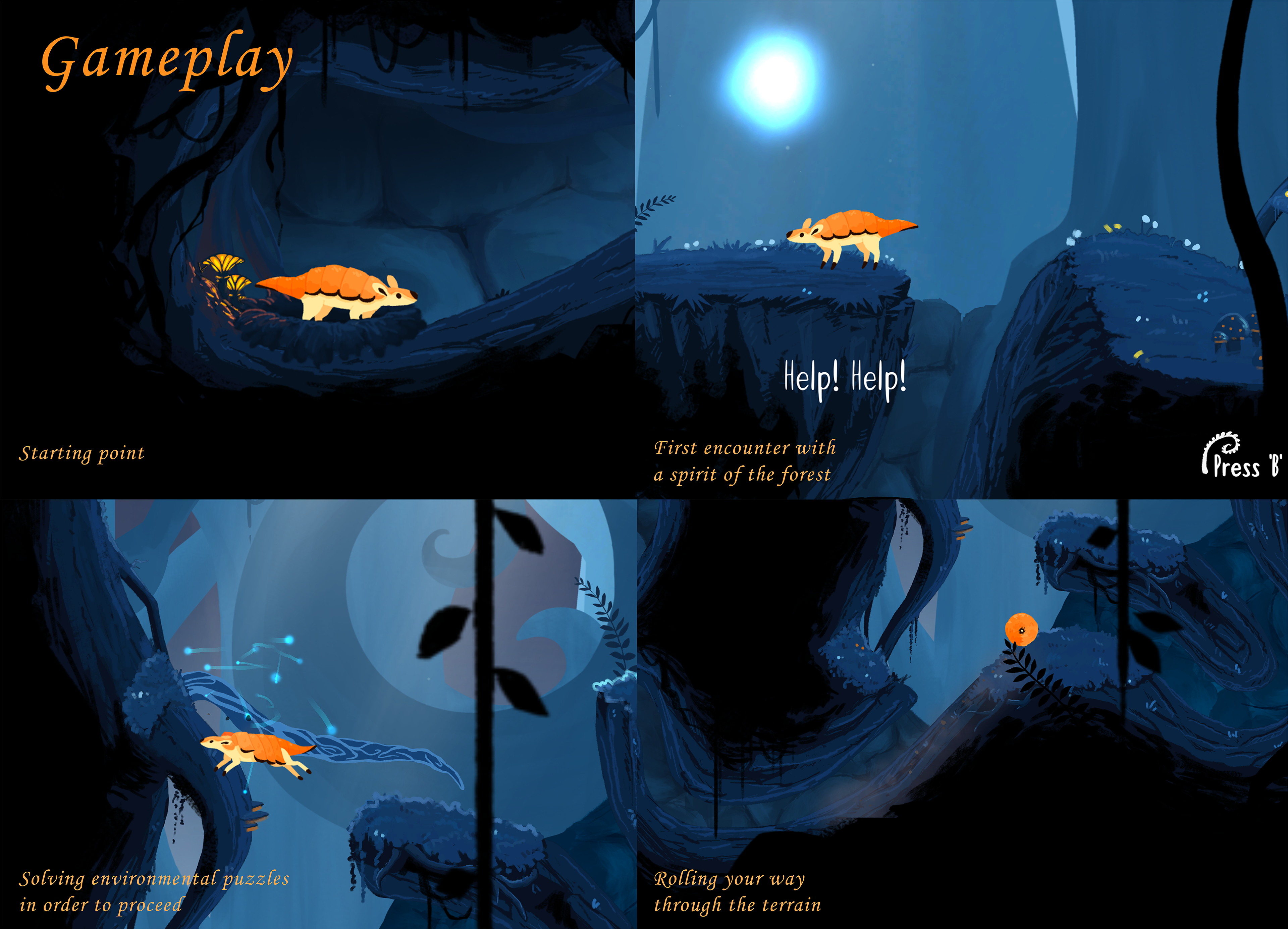 Momentum-based controls require the player to time their moves and make use of the terrain's form to proceed.
Testing timing & animation states
The above clip shows my process of testing controls and animation states, using a 'placeholder' character from a former project. 
I designed the "fern" platform, which folds out upon being touched by the player.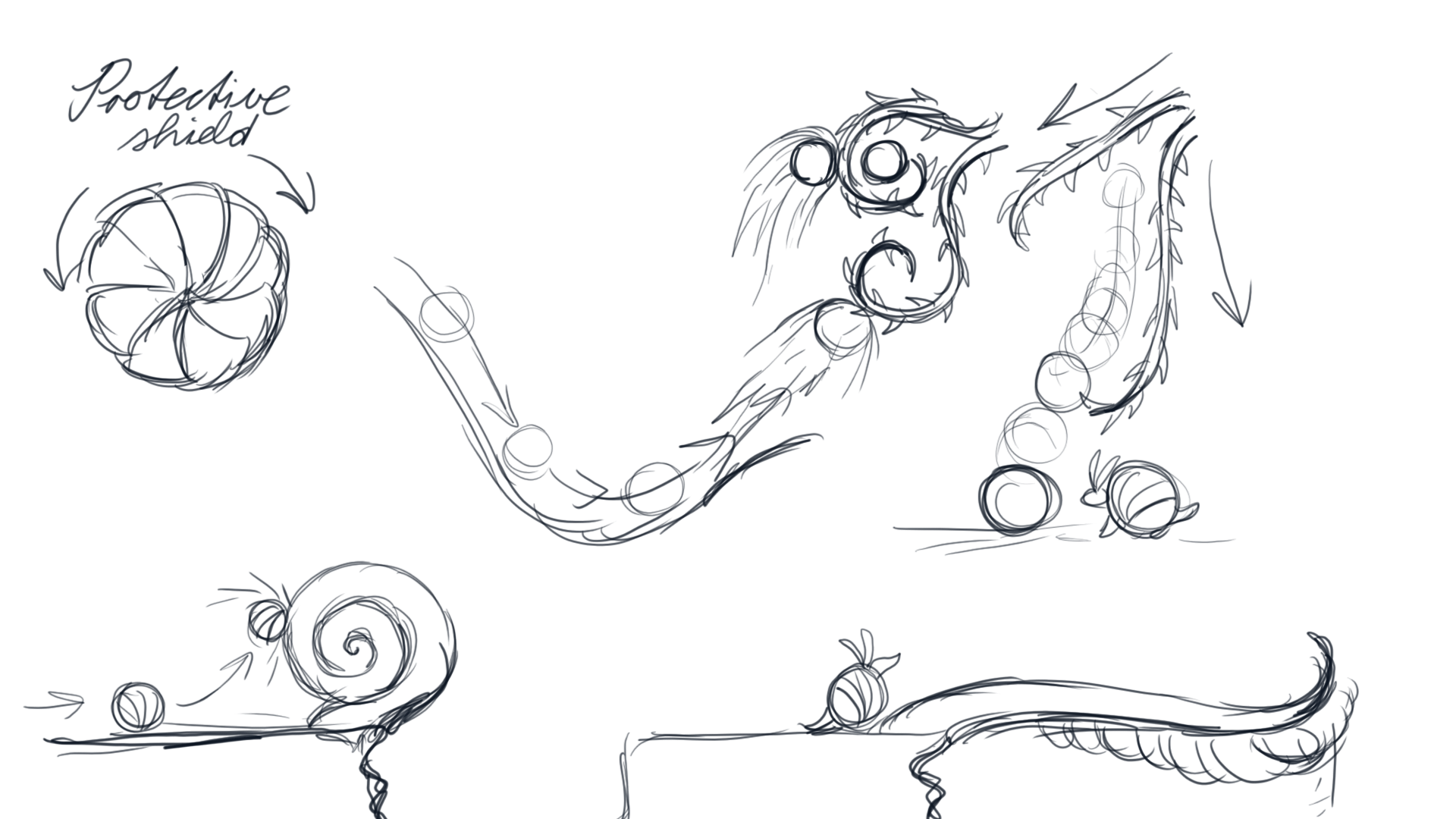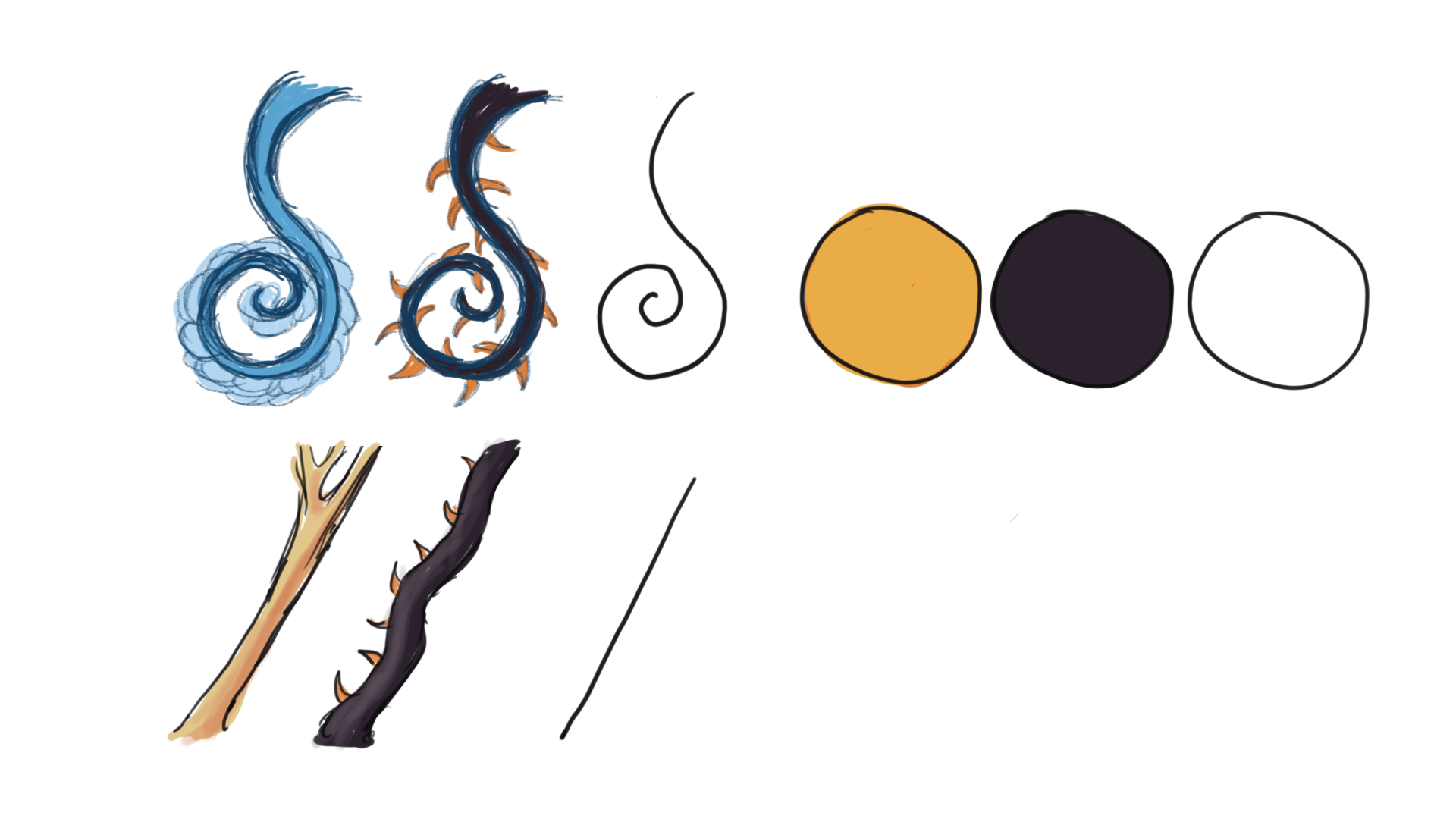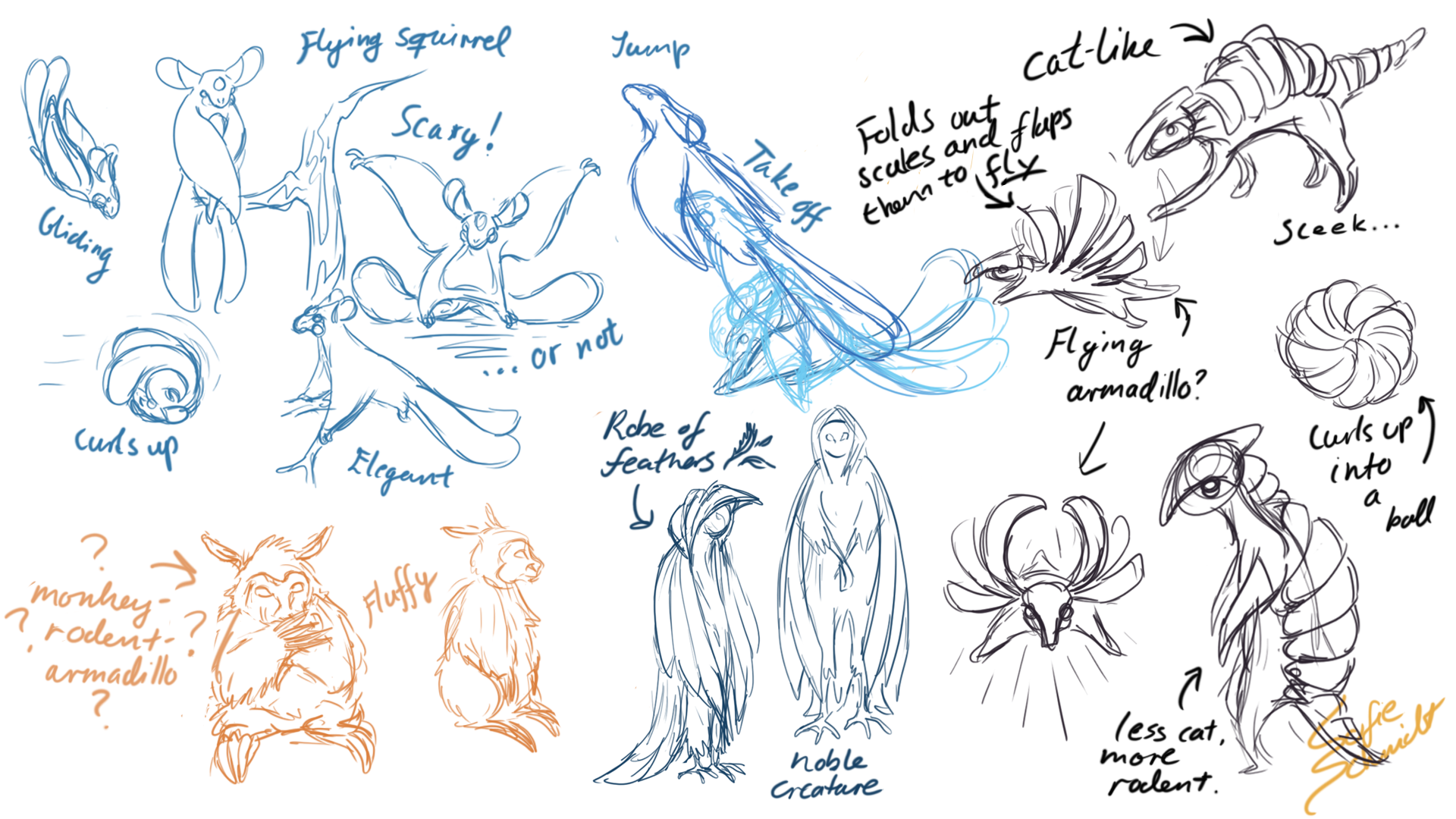 Brainstorm sketches of how the protagonist could look. We ended up picking my idea of a 'squirdillo' (on the right), which possesses the abilities to curve into a ball - like an armadillo - and fold its scales out like wings, enabling it to soar - like a flying squirrel.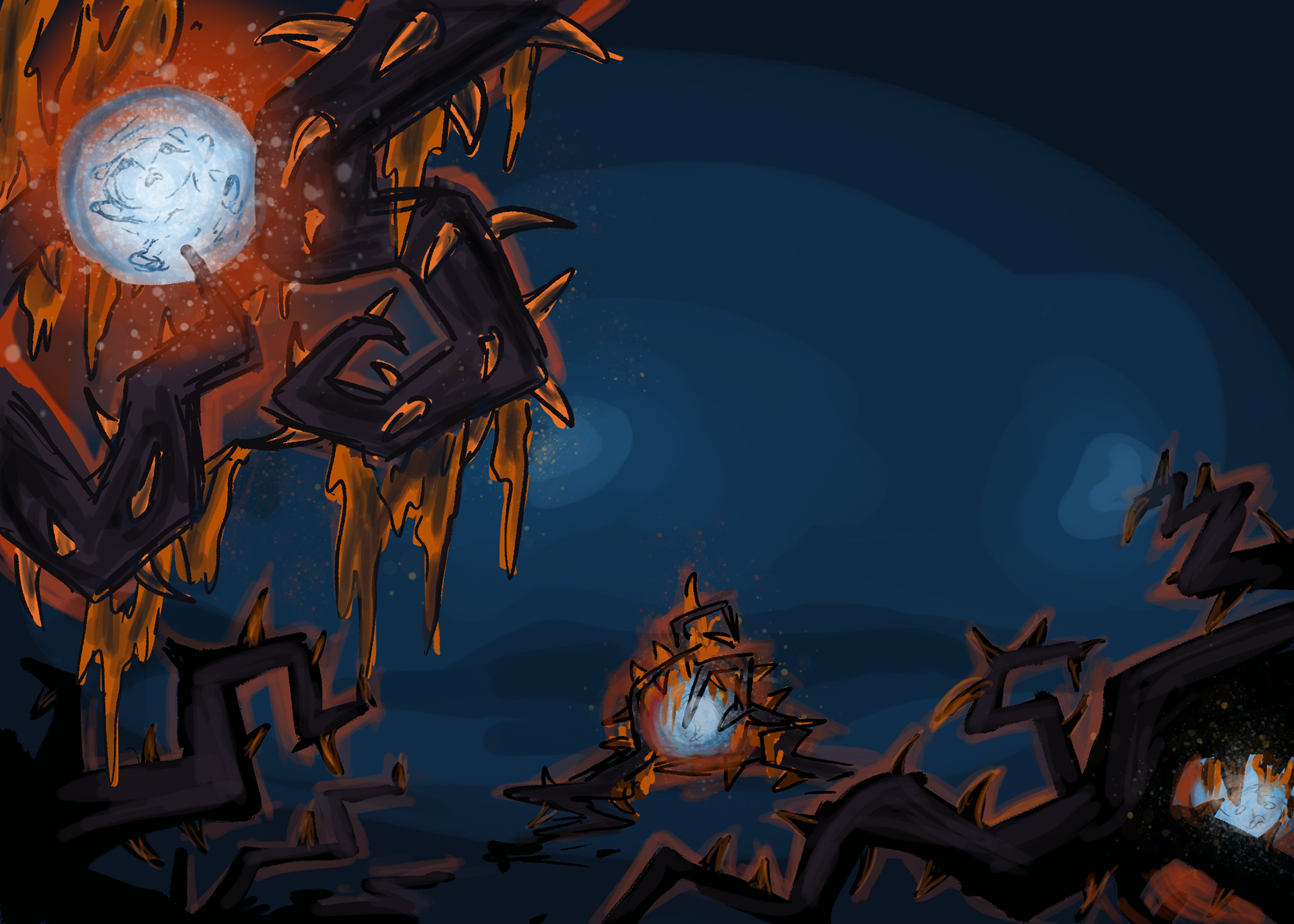 Due to the scope of the project, we did not have time to create a subterranean level. Nevertheless, I made a quick sketch, showing how the corrupted vines had captured and encapsulated the poor creatures of the forest.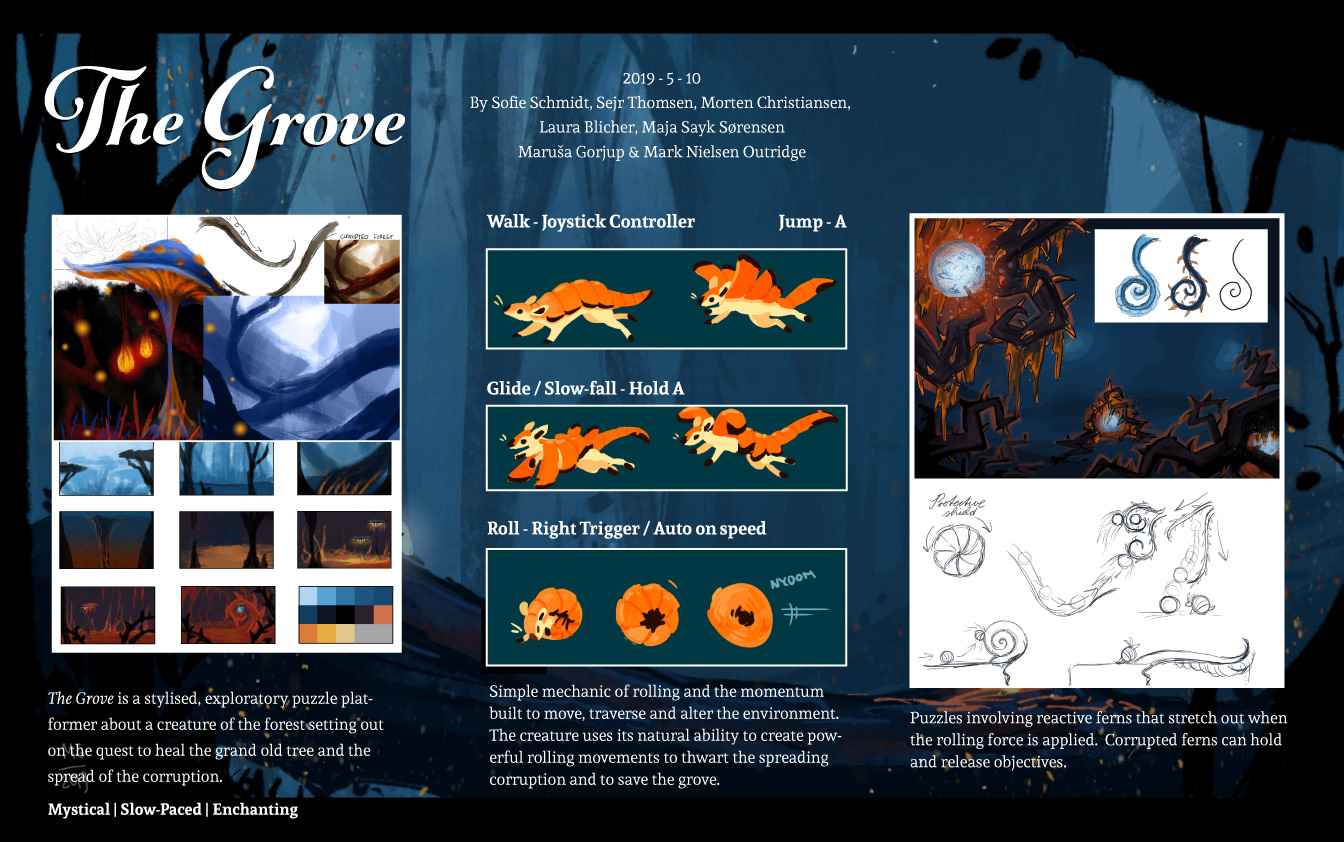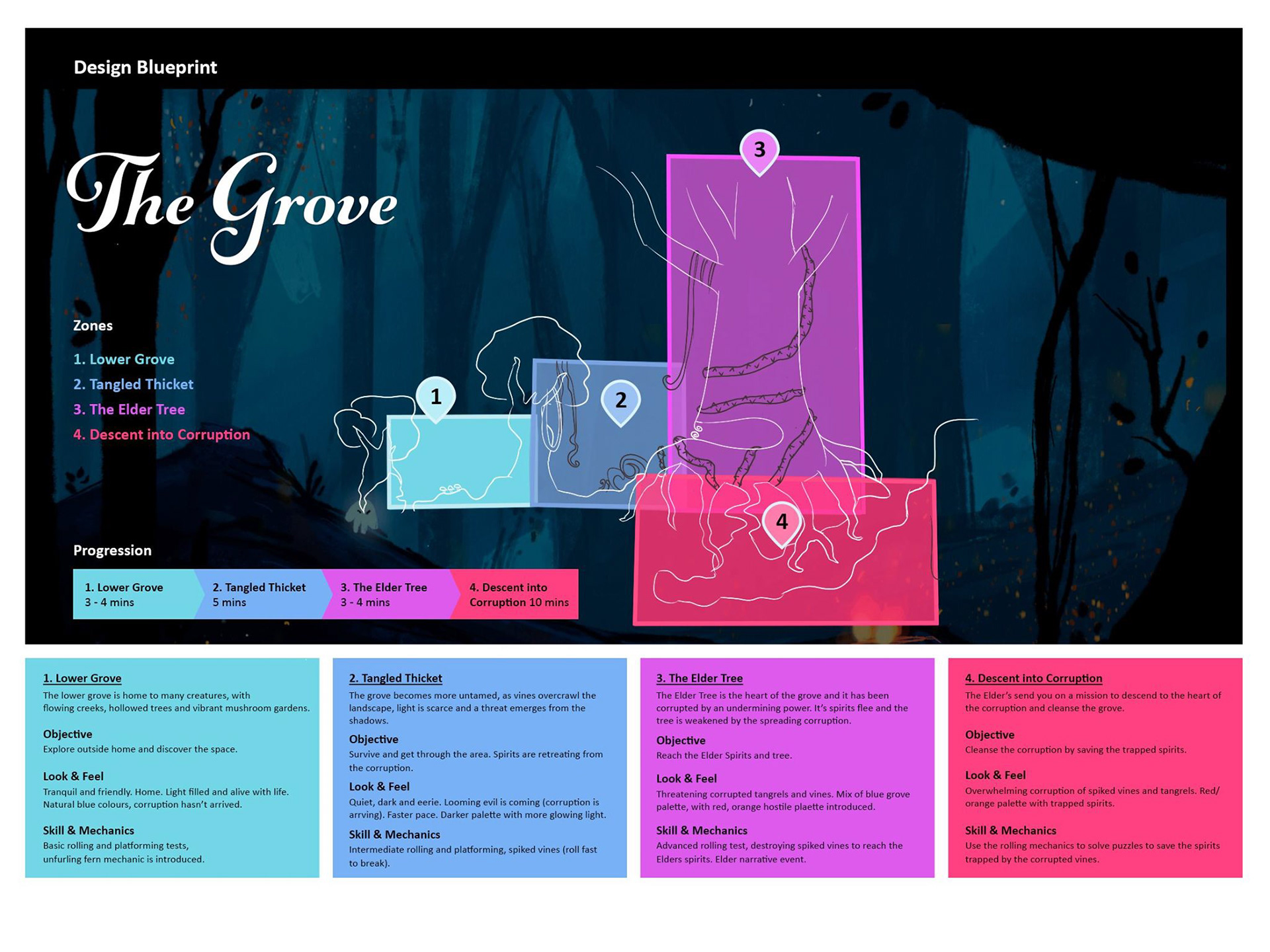 Mark Nielsen Outridge and Marusa Gorjup made in collaboration with the team the pictures above; the first is a one-pager explaining the idea behind the game, touching upon the gameplay, controls and level design. The second is a slice of the game world, digging into the different levels of the game, elaborating the objective, look & feel as well as mechanics of each. 

The level "Descent Into Corruption" was not designed and built, due to the short time the project went on. 

All credits go to the Game Director, Mark Nielsen Outridge, and the Art Director, Marusa Gorjup, for the beautiful, elaborative visualizations.